6
Jan
Stuart Lyall resides in Australia, but is known as a frequent jet-setter who touches down in many different countries. As can be seen by this Stuart Lyall athlete profile, Lyall is well accomplished in the 1500 meter dash that he performed February 20th, 1999.
Apart from his love for athletics, Stuart Lyall loves travel. While serving as Product Manager of the India and Asia markets for Travelmarvel APT, Lyall has had the privilege to be able to put together wonderful vacations for some of the worlds best loved travel locations. In his vacation planning career Stuart has also been able to travel to many exotic locations throughout Asia and much of the world.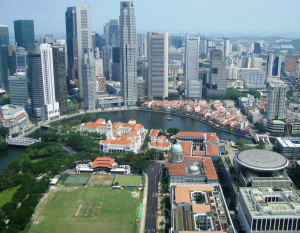 Stuart Lyall on favorite locations:
There are many beautiful locations in the world and I have been fortunate to see many of them. Whenever I'm asked about my favorite destination, I always come back to Singapore. It's sprawling water ways, beautiful architecture, clean and modern infrastructure along with wonderful people, it's hard to think of anywhere else.
Stuart Lyall on activities:
People have different expectations when going on vacation so I try to provide them with what they're looking for. That helps meet expectations. After we meet those expectations, we try to put a spin on the standard vacation that will exceed expectations.

Some people want to sit on a beautiful beach all day while the sun shines and have a quiet formal meal in the evening while the sun sets over the Indian Ocean. In the morning they wake early and watch the sun rise over the North Pacific. We make that happen.

Others love the speed of a busy city. Singapore has a diverse night life that can fit just about any criteria. Sitting in the Crazy Elephant bar and lounge listening to a live band, dancing till the early morning hours in a night club like Attica, or looking at the lights over the city from the 50th floor walkway in The Pinnacle @ Duxton, each of those are possible, and even possible in the same vacation!
Stuart Lyall on pricing and availability:
Depending on when you want to go, and where you want to go, TravelMarvel can usually accommodate. During the busy seasons some of our packages have limited availability so get your reservation in early. If you like to travel in the off season, you can often book last minute and save some money.

You asked about pricing and of course that's all over the place. You can pay $500 USD per night to stay in the Millenia Suite at the Ritz-Carlton or $100 USD per night to stay in the Singapore Regent (which is a nice hotel). Full vacation packages are the same way. What you want to do, where you want to stay and the duration of your trip all play a role in the final cost.
I want to thank Stu Lyall, the Australia based Asia and India product manager for Travelmarvel for answering a few questions and giving us insight into his work.